Difference between Google SEO and Youtube SEO?
Google says – why should I rank this content and takes a long time to decide whether to push the content up or not
Youtube says – why should not I rank this video and immediately places it on top of the results and based on 24 hours performance, decide whether to push the content down or not.
Hence the initial 24 hours are very crucial for a Youtube video to get a good rank.
And then there are some factors based on which YouTube decides which video to display at the top in its search results
Based on our learning of doing Youtube SEO, we have figured out 10 hacks to search optimize our video on YouTube.
Invitation to join Global Video Marketers Community


Here are 10 Youtube SEO 2020 hacks you need to know
Check out the complete youtube seo optimization guide here.
1. Put your main primary keyword in the title.
2. Put 4 to 5 secondary keywords in the description.
3. Add social media links in the description.
4. Add the primary keyword and 8 to 10 secondary keyword in tags.
5. Create a custom thumbnail rather than selecting from the options.
6. Use cards to suggest another video in the middle of the video.
7. For the end screen suggest another video to continuing viewing.
8. Create a youtube playlist of similar videos.
9. Upload closed captions file for every video.
10.Reply to comments to keep your audience engaged


#1 Put your Primary Keyword in the title
While searching for videos on YouTube, most people pay earnest attention to the title.
Many Organizations churn out many videos as a part of online marketing to garner potential traffic for their website, but they do not get the desired results.
The main reason being – NOT writing SEO friendly title or social media friendly title.
So the number 1 hack is to Put your primary keyword or YouTube SEO keyword in the title and not just write any random title.
Check out – Top 25 Global Video Marketing Disruptors


#2 Put 4 to 5 secondary keywords in the description.
Most of the people either leave 'description' blank or write something for the sake of writing.
But the fact is Description plays an important role in Youtube SEO as it suggests Youtube what the video is all about.
So number 2 hack – you can put 4-5 secondary keywords in the description.
Secondary Keywords are those keywords that are related to your primary keyword. So, it's important to do proper research of keywords before writing a description for your video.

Here are the basic youtube SEO guidelines apart from adding secondary keywords in description:
Include your primary keyword in the first 30 words
description is of at least 200 words
Include your Primary keyword 3-4 times and not more than that

#3 Add your social media links in the description.
Check out YouTube SEO description example below.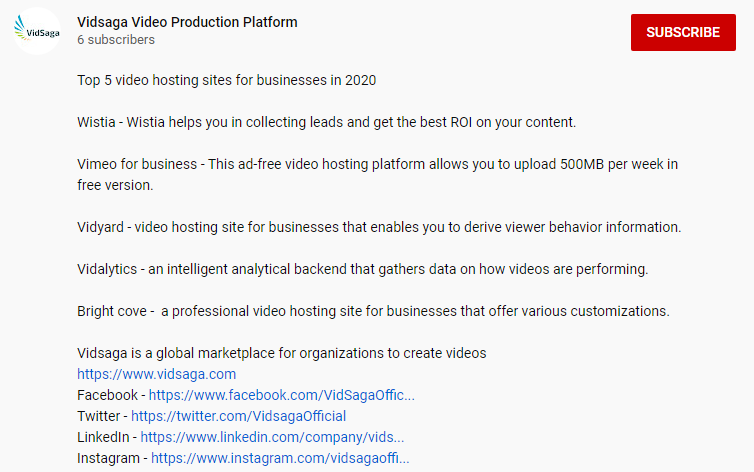 #4 Add Primary Keywords and 8-10 secondary keywords in Tags.
Youtube Video Tags may not play that significant role in SEO but they help in getting unforeseen views.
Tag your main keywords first and then move to general or matching keywords.
The most prominent role of tags is that they help the video to show up more often as a related video section (in the sidebar area of YouTube).

Get updated with Latest Video Marketing News
#5 Create a custom thumbnail rather than selecting an image from thumbnail options.
The most important factor and the powerful click motivator is video thumbnail image of your video.
Thumbnail images cannot be considered a direct ranking factor for video, but it makes a huge impact for a video to be clickable.
In a matter of seconds, viewers decides whether they want to watch your video or not.

Click to know more : How to make clickable Video Thumbnail Image?
#6 Use "Cards" to suggest 'another video' in the middle of video .
Adding youtube cards and end screens is an effective way to convert viewers to subscribers.
It creates a clickable CTA that enables users to take action.
Cards can be placed anywhere in a video. Following types of cards can be added:
Video / Playlist
Poll
Channel Promotion
Link
Please check below example of youtube card.


Are you a video marketing expert? Take this quiz
#7 For the end screen, suggest 'next videos' to continue viewing.
Youtube endscreen is a clickable block that appears generally in the last 5 to 20 sec of a youtube video.
Add end screen to youtube videos to keep your users engaged and connected.You can even add a subscribe button.
You can choose from ample options available for youtube end screen template.
Check the youtube end screen example below.


Know the New Things in Video Marketing
#8 Create YouTube Playlist of similar videos
Playlists are one of the best ways to get more views. Playlist helps users to view all the videos related to a topic in an arranged manner.
And you can get more search traffic, increase view time and retention.
You can use a combination of all the secondary keywords that are targeted to rank in Youtube search result.
Have a look at this playlist.

You can see that all of the secondary keywords are associated in the playlist. Like physical fitness , exercise intensity , skill-related fitness etc. You might have got the idea now, how wisely you can use playlist to rank in search results.

#9 Upload "Closed Captions" file for every video.
As video is not text based it is difficult for crawlers to understand what is the content of video. So it's always a good practice to include a supporting text to inform google what is the video all about.
The Video Captions and Transcript let google bots to crawl everything that is said in the video. This also increases keyword density as well as keyword diversity.

This allows your video to rank on multiple related terms rather than primary keyword in the video description, title or tags.
In fact, adding captions to your videos is a proven strategy to improve SEO, views, engagement, and search rank.
Here are the Top 40 Video Production Companies in India

#10 Reply to comments to keep your audience engaged
Just like Google, Youtube displays content that is popular.
One deciding factor is comments, likes and subscription. If your video gets engagement it tells youtube that your video is popular.
Channel Subscribing is one of the major factors that youtube algorithm uses to rank videos.
Tips to get comments : End your video with a question or some discussion to get the commenting started.

Conclusion
Unlike Facebook, YouTube (Google) has search engine optimization guidelines based on which a video can be made "search-able"
So, uploading a video is just not enough (unless you are a big brand or a celebrity), you MUST optimise it in order to tell Google/ Youtube what your content is all about and related to else you will be missing a lot of traffic and conversions.
If you have some more Youtube SEO tips to share, please mail us at team(at)vidsaga(dot)com.


About VidSaga
Vidsaga is a global marketplace for Organisations to create Videos. Consider it as "Upwork/ Fiverr for videos" with Creative script writing and professional project management
The post YouTube SEO: 10 hacks you need to know in 2020 appeared first on Vidsaga.com.
* This article was originally published here